"Galway Airport is closed to Commercial Traffic other than the Galway Flying Club."
Welcome...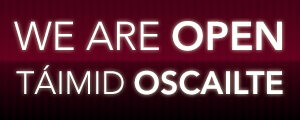 Airport Open
"Galway Airport is closed to Commercial Traffic other than the Galway Flying Club."
Airport Information
For all the technical specifications if you are thinking of flying into Galway Airport in the future.
Book Online Now
Landings at Galway Airport cannot be booked at the moment
Galway Airport is not open to Commercial Traffic. Galway Flying Club is authorised by the Galway County Council & Galway City Council to fly at the airport. Galway County Council and Galway City Council have a presence on site. The contact email address is ops@galwayairport.com. The first commercial jet, under the new licence, arrived on the 13th January 2015 from Stuttgart in Germany. The executive jet, a Citation, had two crew and seven passengers on board. They intend to be in Galway for a short stay and visit Connemara. The airport has obtained a new aviation licence, and a fuel licence recently, from the IAA. The Irish Air Corps are carrying out an audit of the facility this week, and the Coastguard search and rescue Helicopter operations staff will also be visiting the facility this week to carry out their own audit. The airport is being operated under licence from Galway County Council and Galway City Council until May 2015 by Carnmore Aviation Ltd, a company owned by the Conneely Group in Ballinasloe. The Group also own Weston Airport and staff will be shared between the airports. "It is only a small step but great to have commercial aviation back at Galway Airport." The Councils have selected the consultant who will be undertaking a feasibility study over the coming months. Their brief is to look at the future use of the airport to maximise the economic development of Galway and the region.
Galway Airport provides business and industry,the general public and tourism with convenient access to and from Galway City and County. Known throughout the world for its scenery,Galway is a gateway to the vast and wild countryside of Connemara,to the Burren region,internationally famous for its karst landscape,to the Cliffs of Moher.